I first became interested in shooting the waves at Cape Disappointment after stumbling onto the work of this young lady: https://www.wildnwbeauty.com/p798166022
And plan to continue going back until I see and capture some waves of that size and beauty.

The wave forecast for Cape Disappointment had been up and down for several days. I'm in the area now, but had drawn the line last night: if the forecast held with 11′ swells I would forego Cape Disappointment and leave early for Mineral Lake. But, now, at 3:15 am, the forecast calls for 13′ swells, which is as good as it was when I was here last year. It also looks like the rain is forecast to be much lighter than it was previously forecast to be: so maybe the Lord is blessing me with another set of wave photos. It can can still change like it did yesterday (when I was not here), where 7.5′ was forecast but 14′ happened. (I was so disappointed that I missed the action yesterday: I did not come because of the 7.5′ forecast, then later learned that the waves wound up being much bigger.) Even if we get only 13′, with the right light and clouds, the waves could be great!
At 3:00 am they were forecast 13′, so I decided I should stay for the shoot. Now, at 5:15, the forecast is for 12′: the same as I had last year, which was not bad, but I would like better.
As it turned out, the waves were amazing today!! I don't have an image count yet, but I filled up all but one memory card: a pair of 64 gb, a pair of 128 gb, and a pair of 256 gb (there were 110gb of trip photos on them already). I'm stunned by the Lord's generosity toward me!!
There are two reasons that I shot so many images: It is not possible to tell until after the fact when the wave will be at full height, so it is best to get several of each wave, then choose the best later. But I also want to capture some whole series (36 or more shots of the wave, from beginning to end) like I did last year: I love to see (and capture) the progression from a small swell to an enormous explosion. The best (or only) way to accomplish that is to begin shooting at full speed (12 to 14 frames per second) at the beginning of each wave. Most swells don't turn out to make great breaks, but I don't know which ones will be good until after the fact (so I wind up shooting a lot of duds).
Here is a short video clip created from a series of 48 still images of one of the waves:

The waves were amazing and the light was outstanding!! Had backlit waves for awhile, then the sun totally broke out with some blue skies and great side lighting. There was not as much variety in the waves (as last year), but many were quite large and beautiful.
It was raining lightly at first, and I set up my awning for the first time: it was great!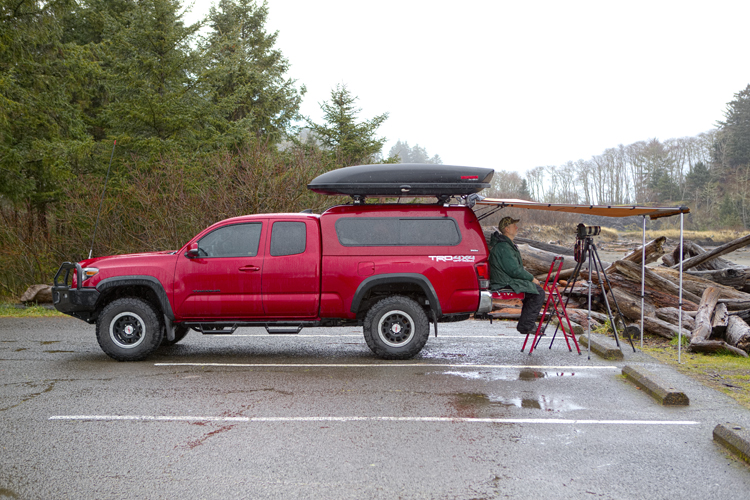 It kept the rain off at first, a few minutes of sleet later, then gave me shade even later. I would have struggled with keeping water off the front of the lens, then later with lens flare without the awning.
I have been amazingly blessed today!
Two guys: Jim and Jerry stopped by and talked for awhile as we shot: they stepped under the awning for a bit when needed.
I had set up two camera bodies, both with 70 – 200 lenses, polarizer filters, and remote triggers. Each was framed and aimed somewhat different. I leaned on the tailgate most of the time and shot away. I ran out of space on all but one card, and switched each into the main camera until I quit. The waves were still coming at 1:30 or so: well after high tide, but they were smaller and less frequent. I saw no sense in staying, and needed to make room on the cards.
I did not know where I would be heading next, but Jerry gave me some ideas in Oregon: only one that I got enough info on to follow thru with.
I don't have enough space on the laptop hard drive for today's images, and I'm not sure there is enough room on the Passport drive. I'm copying them right now to the 8T main drive I have, and wish I had brought another. If the Passport is not big enough, I will get another drive in Yakima tomorrow: I must have at least two copies before I will format the cards. This is the first time I have filled more than one or two cards on a photo trip.
There were some duplicates that I deleted, but what I copied from the cards is 28,107 files; 664 gb!! What I shot today is more than twice what I have shot on a trip before! I am so thankful for digital: there was no way I could have afforded the film or loaded it fast enough today.
Later: I ended up with 11 full series that I really like: one of which is comprised of 73 images, capturing the whole progression from beginning to end!